Crop Coeffecients (Kc)
Crop Coeffecients vary by type of crop, stage of growth, and geographical region. With the FAO method, crop coeffecients are represented by straight lines connecting four general growth stages, as indicated in the following figure. Following the figure is a more detailed explanation of the crop coeffecient values and their respective growth stages.
Generalized Crop Coeffecients and Crop Growth Stages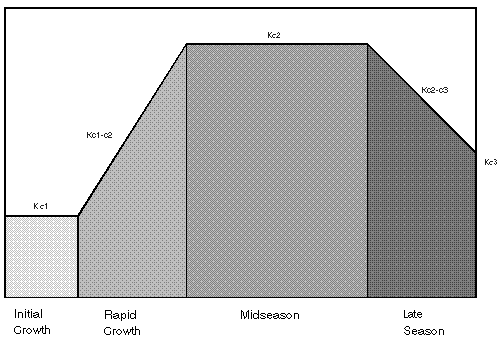 | | | |
| --- | --- | --- |
| Kc Values | Growth Stage | Description |
| Kc1 | Initial | The average KC value from planting to about 10% ground cover. |
| Kc1-Kc2 | Rapid Growth | From 10% ground cover to 75% cover or to peak water use, which ever comes first. |
| Kc2 | Midseason | The average value from the end of the rapid growth stage until water use begins to decline due to crop aging. |
| Kc2-Kc3 | Lateseason | From when KC begins to decline until harvest or when water use ceases or becomes minimal. |
| Kc3 | Harvest | The average value at harvest or the end of the water use season. |
Note: For the rapid growth and the late season stage, it is assumed that KC values increase or decrease linerally with time.